TenStep has the integrated suite of products that you need to enable project success. It is more than a methodology. It is the ultimate combination of sound project management processes and supporting content for skill-building - all in one product!
Basic TenStep view shows the methodology by project management process
TenStep process view (PV) shows the methodology by process group
"I appreciate the care that you have put into this site. It is very helpful; especially when you may be in a stressful situation your site is a good checking point."Thank you for all your hard work and sharing of your expertise."- Michael A.
Full World-Class Project Management Processes
The TenStep Suite is a flexible and scalable methodology for managing work as a project. The basic philosophy is "large methodology for large projects, small methodology for small projects™". TenStep shows you what you need to know to manage projects of all size.
Not surprisingly, the TenStep Project Management Process is divided into ten steps – the first two for definition and planning, and the next eight for managing and controlling the work. These steps are as follows:
Initiate
Plan
1.0 Define the Work
2.0 Build the Schedule and Budget
Manage
3.0 Manage the Schedule and Budget
4.0 Manage Issues
5.0 Manage Scope
6.0 Manage Communication
7.0 Manage Risk
8.0 Manage HR
9.0 Manage Quality and Metrics
10.0 Manage Procurement
Close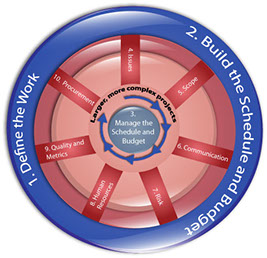 We still have our superb "ten step" model, but now you can also make one click to view the same content arranged in process group view (initiate, plan, execute, monitor/control, close)